ZINE ISSUE 01: OTHERING
Where do you derive your identity from? Do you establish it by casting someone else in the role of the 'other'? Is your sameness based on someone being different from you? Navigate through the terrains of the native and the strange through the first print edition of our artzine, 'othering'.
Issue 01 is all about identity, alienation and their socio-cultural implications. Printed in black and white, it uses the visual aesthetics created by negative spaces in monochrome. 
Saintbrush is a counterculture artzine curated by a small group of creative individuals from Calcutta. We believe in collaboration, free speech and odd numbers.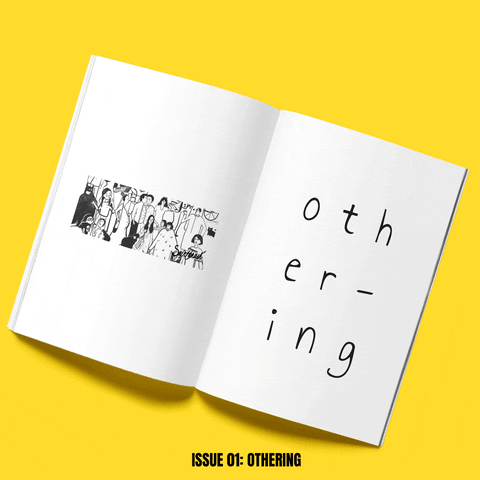 OTHERING: THE VIRTUES OF SELLING OUT
Written by Sourjyo Sinha, page: 56


"You can't have a career as an independent artist with your original art for a considerably long and sustainable amount of time unless you're well off to begin with. Almost every 'indie' musician has some sort of monetary security with which they do what they desire without worrying about the consequences. When the scene is run and dominated by the privileged class, there isn't enough (or, for that matter, any) space for outsiders. The scene becomes inaccessible for the people who want in, who deserve to be there who are just starting out and have no idea whom to approach or go to, end up feeling incredibly lost." 

A piece about creating a sweet spot where one can create art for the love of it but also come to terms with its eventual loss. X-MEN: HUMANS, THE OTHER AND DENIAL
Written by Masoom Rana Dewa, page: 36
"While fighting aliens, criminals and other mutants, the consistent theme of these books was fighting the prejudice of fellow humans seeking to oppress mutants. While Charles opted for a peaceful, diplomatic method or cooperating and making humans get over their fear, Magneto took a more defensive and violent approach against discrimination, not unlike their inspirations."
About how fiction is not based on ideas formed in a vaccuum and the history of pop-culture being a mouthpiece for social injustices long before the Trump era. Rushali Shome, page:56
I stammer, I stutter, I stop. They sip their drinks, throw back their heads and laugh. They daze, they dazzle, they dance. I wish I had listened to the disapproving voices in my head. "You wouldn't fit in there!" they'd screamed in whispers. "So?" I had retorted, safe and brave in the quiet of my home.
IN DEFENSE OF PINEAPPLE ON PIZZA
Written by Devika Asthana, page
:24
"Pizza happens to be one of the most versatile food items out there. It has a personality of its own, shaped by not just the chef but the politics of a space. Domino's India serves Paneer Tikka Pizza, a dish unheard of in the west. Domino's US might serve juicy chunks of beef in their dishes, but if Domino's India were to take up that trend… Pizza here reflects the adaptive capabilities of a capitalist corporation that will go to any extent to garner a profit, while keeping in mind the demands of each market. "